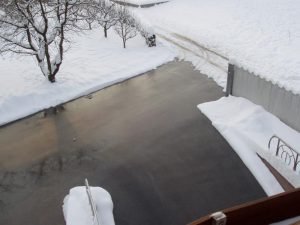 Snow and ice melting on outside surfaces
Frozen and snowed surfaces delay and block traffic of vehicles and walkers. Result of this unexpected dislikes is slow traffic and danger of slipping or falling for walkers, which can often get injured.
Advantage of electrical ice and snow melting is immediate melting of snow when it is falling, and also preventing from icebound surface and glazed frost.
There is no need for delayed removing of snow and use of noxious chemical preparations.
Surfaces, which can be electrically heated, are:
driving ramps
yards
parking lots
bridges
outside stairs
terraces
sidewalks
Heating installations can be installed in various sorts of outside paving:
asphalt surfaces
concrete, stone and brick pavements
paved surfaces
For asphalt surface we use heating cables with higher temperature protection.
Floor heating installations can be controlled and managed by different devices, concerning purpose and needs:
manual control with a switch
controlling box with a thermostat
electronic unit EM-T with floor sensors for heating when snow or ice is present
Protection
All our heating installations are grounded on the entire length and additionally protected against electrical shock with automatic circuit breaker for difference current 30 mA.