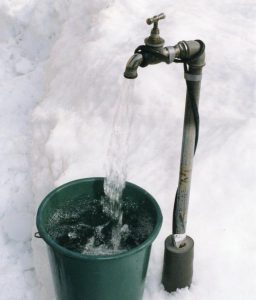 Pipeline trace heating
Frost protection
Water and similar liquid mediums can freeze in winter time, even if the pipes are heat insulated. We prevent freezing with trace heating installations on pipes, with minimal required energy.
Temperature maintenance of liquid mediums
Heat losses cool down liquid mediums below desired temperature even with heat insulation on pipes. Heat tracing installations on pipes replace heat losses and guarantee untroubled flow of mediums at desired temperature.
Required heating power for pipeline depends of desired temperature, pipe diameter, thickness and quality of heat insulation, and enviroment temperature. Power of heating cables can be seen in the table in our brochure GS2009 or with calculation of heat losses.
For realization of heat tracing installations we can use following cables, according to customer's wishes or our advice:
classic heating cables for various temperature environments:
type GD – for operating in environment up to 40°C
type GF – for operating in environment up to 200°C
type GN – for operating in environment up to 220°C
self limiting heating cables:
types HTM, CLT, SR for operating in environment up to 65°C
type HLT for operating in environment up to 120°C
type LTC, LTD for keeping warm water at temperature of approximately 55°C
In case if classic heating cables are used for heat tracing, it is necessary to use thermostat with sensor on the pipeline for each circuit.
For this reason, we mostly use selflimiting heating cables, which adjust their output according to environment temperature and therefore they can be controlled with one central thermostat.
Protection:
All our heating installations are grounded on the whole length and additionally protected against electrical shock with automatic circuit breaker for difference current 30 mA.